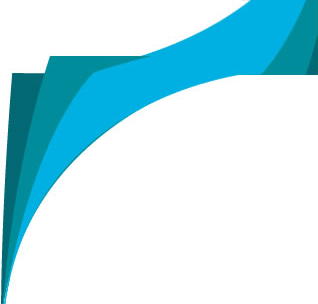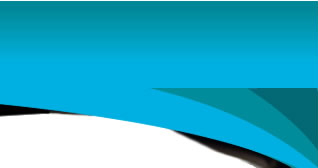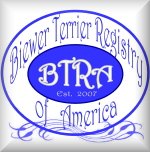 We would like to thank all Biewer Terrier Breeders who have submitted your applications for registration with the Biewer Terrier Registry of America. Please be sure to read the entire application thoroughly, being careful to answer all required information. Also, please check to make sure that you have signed the application in all required areas. This will aid BTRA in being able to process your applications in a timely manner.

The Biewer Terrier Registry has just made things easier for you to register your dogs/puppies. You can now get your DNA kits through BTRA.

Along with your parentage profiling, your dog/puppy will be tested for 25 health issues and coat coloring. You may request a swab kit prior to sending in your registration application, or you may send in your application and request a swab kit at that time.

The results of the DNA tests will be sent to BTRA and entered into your dog's profile. The certified copy of your DNA report and your registration will then be mailed to you.

Cost of DNA Parentage/health kit is

$50.00 for non members and

$45.00 for BTCA, Inc. members.

To request DNA kits:  E-mail
btra2007@msn.com
with your name, mailing address, and how many kits you need.
There is a one time fee of $25.00 to register your kennel name. Your kennel will be assigned a number which will be included in the registration number issued to all puppies or dogs you register. Your kennel name cannot contain any derogatory or discriminatory words, nor parts of a registered kennel name that could cause confusion or in any way mislead the general public. 

Please fill in the registration form with the Kennel name you would like to register, making sure that all the spelling is correct.  Payment may be made  through PayPal, there is a service fee of  $1.30,  totaling $26.30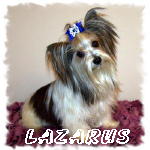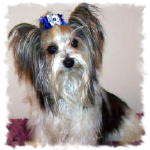 Picture may be sumbitted with or without the name.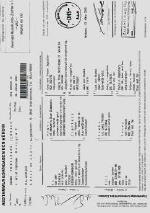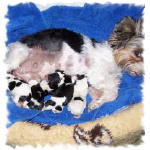 The Biewer Terrier Club of America (BTCA, Inc.) is getting many requests from the public on how to go about transferring their current registrations on their Biewers to the Biewer Terrier Registry of America (BTRA).  Please understand that BTRA holds the purist lines of Biewer Terriers tested against the genetic marker in place for the Biewer Terrier.  MARS Veterinary holds the genetic marker for the purebred Biewer Terrier thus the reason for the requirement for testing.

BTRA will require your Biewer undergo the Wisdom Panel Professional test. This is a blood test taken by your Vet. For more information please visit
http://www.wisdompanel.com/
. If your Vet is not familiar with the Wisdom Panel testing, contact Gayle Pruett and she will assist you in obtaining a test.
Once you obtain the certificate from MARS stating you have a pure "Biewer Terrier" you can register with BTRA. However, to obtain litter applications on any future offspring, your registered sire or dam must be DNA profiled prior to registration. Please visit
http://www.vetdnacenter.com/canine-DNA-genotyping.html
to order your canine DNA Profiling (Genotyping) test kit. This kit costs $38.00
If you have any questions regarding this procedure please feel free to contact any of the Officers of the BTCA .


Important, Please read!!!


At the time of application, all dogs applying for initial BTRA Registration with no prior parental BTRA registration must meet the following requirements:

Eligibility:

1) Dogs must be purebred Biewer Terrier.

2) Puppies from any litter born prior to the Initial Registration of the sire and/or dam will be treated as individuals; each puppy must meet the Initial Registration Requirements.

3) The Biewer Terrier Registry of America is dedicated to establishing pure bloodlines within the Biewer Terrier breed, that is why we will only register known traceable bloodlines.

4) When applying for a litter registration, both parents must be BTRA registered.

5) Applicant dogs already registered as "NOT FOR BREEDING" by another registry will only be registered as "NOT FOR BREEDING" by BTRA.

6) Applicant adult dogs with "RESTRICTED REGISTRATION - NOT FOR BREEDING" status are not required to provide DNA Profiling, but may do so on a voluntary basis for informational and tracking purposes.

7) Applicant dogs with "FULL REGISTRATION - BREEDING" Status must be DNA profiled by BTRA. If the applicant dog has already been DNA'd via another laboratory, that certificate of DNA will be acceptable in order to receive registration with BTRA; however, if that applicant dog produces offspring, it will become necessary for the applicant dog to have a DNA certificate on file with BTRA that can be cross referenced in order to insure parentage and protect the accuracy of the database.

All applications for dogs applying for Initial Registration must include CERTIFIED pedigrees covering AT LEAST 3 generations, including all registration numbers, from all the registries in which the applicant dog, its parents, and its grandparents are currently or were registered. BTRA must be able to verify purebred status of applicant dog via pedigree and DNA.

BTRA reserves the right to refuse registration on any applicant.

Litter Registration Requirements:

We will be continuing the alphabetical naming system. We feel this helps the breeder keep better and more accurate records. Names can not be more than 45 characters.

When you receive your puppy registration certificate package, each puppy will have been assigned a registration number at that time. When the new owners send in the completed puppy registration certificate they will receive a registration certificate in their name.

1) Complete and submit Initial BTRA Litter Registration Application. When you fill out the litter application make sure you put the full  name of each puppy and state whether it is Male or Female. Names can not be more than 45 characters.

2) Submit a color photo of the litter with the mother.

Single Dog Registration Requirements:

3) Complete and submit Initial BTRA Single Registration Application.

4) Submit a photocopy of the applicant dog's registration certificate.

5) Submit photocopy of DNA profile certificate or use BTRA for DNA profiling and your copy will already be submitted.

6) Submit color photo to be used on registration.

7) If a dog is already registered with another registry, that registered name will remain the same.

8) If the applicant dog is not accepted for Initial Registration with BTRA, the registration fee will be returned. Applications and photos will be retained by the BTRA as part of their Registry files.

or send a check for $25.00 along with the kennel name you want to register to, Myrna Torres 440 E. Laurel Ave., Sierra Madre, Ca. 91024

Web site designed & hosted by the BTCA, Inc. © 2007

U.S. Copyright laws protect all materials

Biewer Terrier Registry of America™